Research options
Through research, you can gain access to diverse technologies, such as more efficient ways to travel through the galaxy, stronger weapons, larger ships, and much more. Before you start exploring new technologies, you need to have at least one
Research center
in one of your colonies. The more Research centers you build, the faster you will do the research. Unlike construction and production, that apply to a particular colony, you can carry out research in the whole empire on just one technology at a time and you can only start another research after the completion of the ongoing research.
The individual technologies are divided into several thematic branches, each branch tracking its own development tree or group of trees, which means you have to meet certain conditions of previous research to achieve more demanding and advanced technologies. Some research may, in addition to previous research and the amount of game money required, require other special conditions to make the research available or run. You will find the description of the different research branches as well as the basic technology breakthroughs of each branch below.
Most research has multiple levels, offering a cumulative effect after reaching each level, or achieving a specific level unlocks new research, construction, unit, cargo, module, or feature. This information is always included in the research description as well as in the library. The cost of research at each other level is increased by the first-level research cost. For example, if level 1 is 10,000, level 4 will cost 40,000.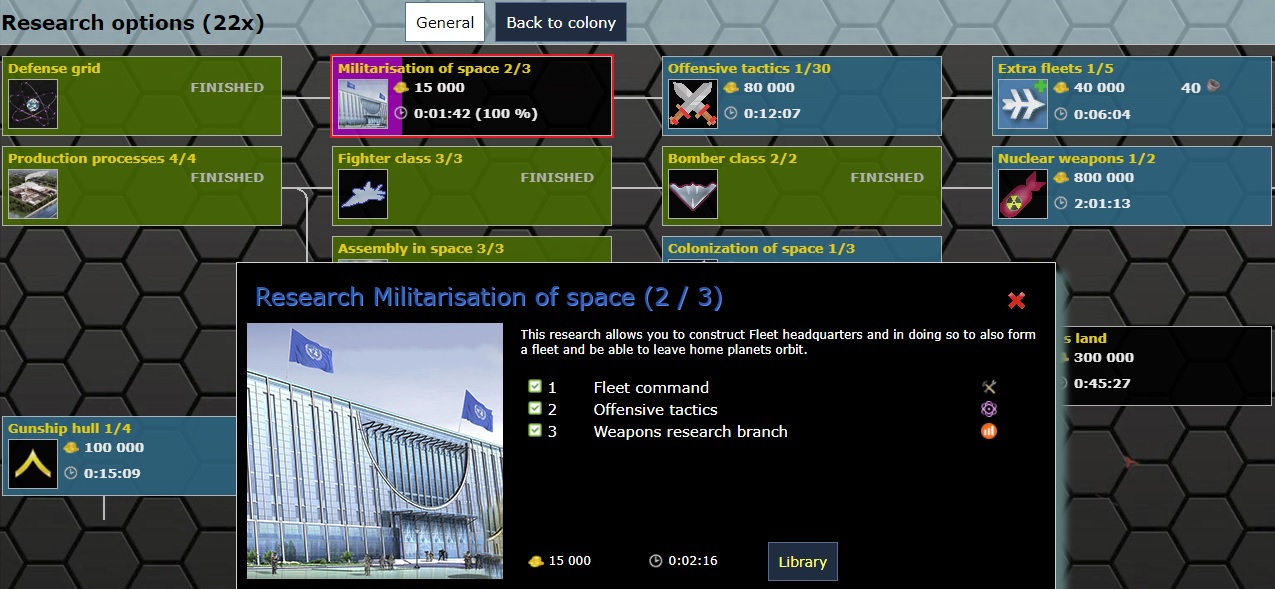 Icons on the research screen
- For individual meanings, check out the
Legend
article, research section.
- More about types of attacks, types of defense, and how they interact with each other, can be found in the article
Triangle of effectiveness
.
- If you want to find out about free slots for installing modules into ship, station and base hulls, we recommend to explore
Ship Design
.
General research
Starting Research branch, available immediately after the first
Research lab
is completed. It contains virtually all the initial technologies needed for the launch of the space empire. This includes research into ship hulls, production buildings, defense and attack.
Society
Branch focusing on passive technologies, helping the economy, trade, and improving living conditions and increasing growth. The branch is unlocked by reaching the fourth (4) level of research
Corvette hull
.
Theoretical Physics
This branch deals mainly with the various partial theoretical models of the universe and the possibilities of their application in practice. Generally speaking, there are different ways of traveling the galaxy more efficiently. Surprisingly, more exotic outputs can also be achieved. The branch is available upon completion of the
Colonization of space
research at the third (3) level.
Applied physics
After theoretical research is put into practice, there is always room for minor improvement. The branch of applied physics offers exactly that. By investing in this branch, you are gradually speeding up your fleets, making your ships more robust and more powerful. Maybe the additions are small and nothing revolutionary, but ultimately it can happen that responsible investment will decide the battle or the whole war in your favor.
This branch is unlocked after completing the
Gunship hull
research at the fourth (4) level.
Weapons systems
This branch focuses exclusively on autonomous weapon systems that can be installed in free slots on all ship´s hulls. Weapon systems are classified by a type of attack on: kinetic - starting technology is
Machine gun mounting
, explosive - starter technology is
Rapid missile launcher
and energy - starting technology is
Laser turrets
. More advanced research can be unlocked later, combining these effects to a certain extent. Each type of weapon system also has three tiers of research according to the size of the required free slot (standard, large, huge).